Workplace safety is a huge issue for every company. We, at Turbine Master inc, believe safety programs and training makes good business sense. We have a dedicated Safety Director that ensures Turbine Master is in compliance with OSHA and all industry specific regulations and conducts periodic onsite safety audits. We have developed and implemented high standards for the safety training of our employees. We realize the most important reason for safety training is to educate our employees to perform tasks safely, reducing and avoiding the risk of danger and to increase the awareness of a safe environment among all employees of an industry. We have allocated the necessary time and resources to ensure the people who come to work at Turbine Master will have the knowledge they need to work in the specialized field of grit blasting and NDE.
Workplace safety is threefold: 1) It protects our employees. 2) Lower injury rates result in higher productivity. 3) It protects the reputation of Turbine Master, inc.
We believe a comprehensive safety training program is necessary in today's competitive global marketplace. We have outlined the foundation of our Safety Training Program. For in-depth information, please contact Cody Glad, Safety Director at Turbine Master, inc..
HEALTH AND SAFETY MANUAL
Developed in accordance with the OSHA Standards, 29 CFR 1910 & 1926
TABLE OF CONTENTS
Introduction
ADMINISTRATION
Safety Responsibilities
Disciplinary
Self-Inspection
HEALTH HAZARDS
Asbestos Awareness
Bloodborne Pathogens
Back Safety
Cadmium Awareness
First Aid/CPR
First Aid Cabinet Contents
Hazard Communication Program
Chemical ID Label
Chemical Listing
Heat Illness Prevention
Hexavalent Chromium Awareness
Hydrogen Sulfide Awareness
Lead Awareness
Hearing Conservation
Process Safety Management
Personal Protective Equipment (PPE) Assessments
Radiation Awareness
Respiratory Protection
Spill Prevention and Response Plant
(Continued)
FIRE PREVENTION & ELECTRICAL SAFETY
Electrical Safety (Non-Qualified)
Fire Protection and Prevention Plant
Assured Equipment Grounding
Lockout/Tagout Program
Lockout/Tagout Device Sampling
GENERAL SAFETY
Abrasive Blasting/Sandblasting
Accident Reporting Procedure
Confined Space Entry
Emergency Action Plan
Fall Protection
General Waste Management
Housekeeping
Ladder Safety
Portable Electric Hand and Power Tools
Rigging Material Handling
Scaffolds (Users Only)
Scaffold Tag Sample
MOBILE EQUIPMENT
Motor Vehicle Safety
Lifting/Mobile Equipment
Powered Industrial Truck Safety
APPENDICES
Appendix A: Hepatitis B Vaccine Declination
Appendix B: Verification of Employee Training for Personal Protective Equipment
Safety Training Requirements:
All Personnel
Turbine Master Awareness -
Training & Compliance Training
New Hire Safety Training
First Aid
CPR
OSHA 10
Basic Plus Training
Power Safe Training
Kentucky Utilities Passport Safety
Training
Respirator Fit Testing: Annually
Audiometric Testing: Annually
Drug Testing: Annually and Random
Safety Training Requirements:
Select Personnel
OSHA 30
MARSEC Training
MSHA New Miner Training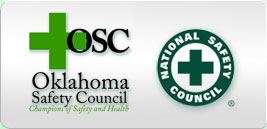 Professional Affiliations:
National Safety Council
Industrial Safety Training Council
North Dakota Safety Council
Louisiana Safety Council
Safety Council of SW Louisiana
California Air Resources Board
Contractor Screening Services: